NOTE: On June 4, 2019, the Trump administration rescinded the "people to people" educational exchange license. However, every U.S. citizen can still legally travel to Cuba and group travel is still possible, pre-approved, under the "support for the Cuban people" license. Lumaria Workshops' Cuba program is designed to maximize "support for the Cuban people" through stays at private B&Bs, meals at private restaurants, and interactions with independent artists, Cuban photographers, private tobacco farmers, etc.  We are delighted to have National Geographic Cuba expert, Christopher P. Baker joining us to elevate this tour to an experience that goes way above any normal photography workshop.
TOUR DATES:  
NOVEMBER 13-22, 2021
COST:  US $4,950.00 double occupancy,   Single supplement $500.00
Because of the uncertain progress of the Covid 19 virus, we are asking all participants to provide proof of vaccination.
ITINERARY (SUBJECT TO CHANGE):
Day 1: Saturday / Arrive Havana
Clients arrive on separate flights. Our tour begins this evening for an orientation meeting and welcome reception. We'll then ride in 1950s convertible cars to dinner at La Guarida, Havana's most sensational (and photogenic) restaurant.
Overnight: Casas particulares, Havana (Meals included: D)
Day 2: Sunday / Havana
This morning we'll explore the back streets of Habana Vieja, the colonial quarter, with its non-stop and über-intriguing and colorful street-life. We'll also visit Fototeca (the Cuban photographers' association) to meet director Nelson Ramirez de Arellano and several young Cuban photographers. In the afternoon, we'll shoot boxers at Gimnasio Rafael Trejo (or a similarly funky boxing ring) before strolling to Parque Central to photograph classic American autos and the fantastical Gran Teatro at dusk. We'll enjoy dinner together at E del Frente.
Overnight: Casas particulares, Havana (Meals included: B, D)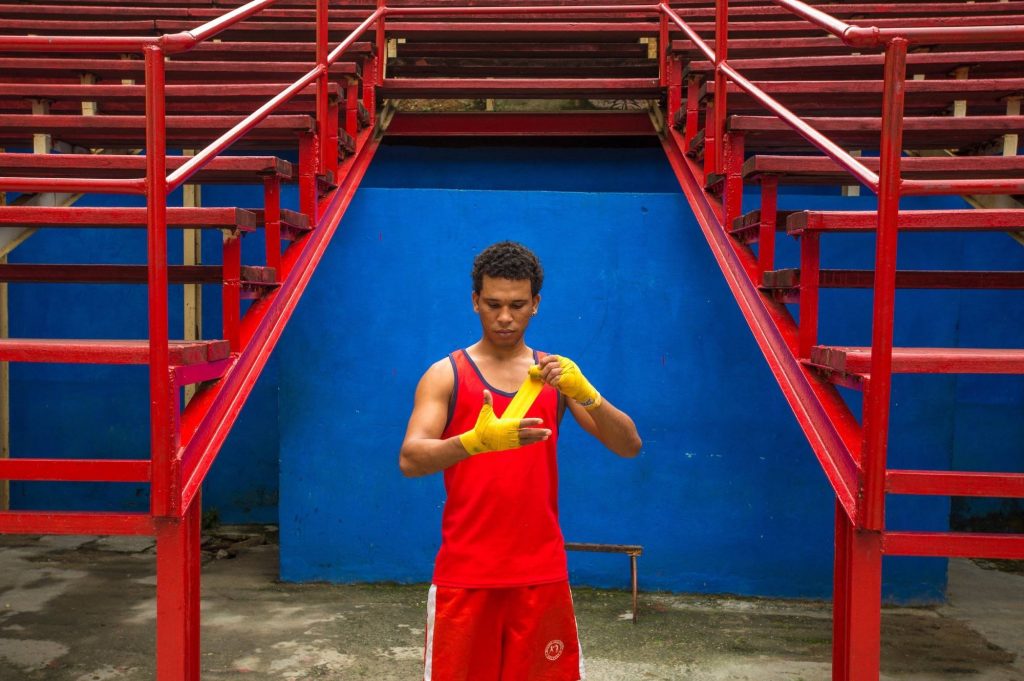 Day 3: Monday / Havana
An early morning visit to Mercado Agropecuario Egido farmers' market is followed by a private photo shoot with the National Ballet and/or Raices Profundas Afro-Cuban dance company. After lunch at the bohemian Bellevue Café (owned by ace photographer Sven Creutzman), models and/or ballet dancers will join us for a one-of-a-kind afternoon photo shoot in a stupendously aged 1920s mansion. Chris will also introduce us to his close friend and raconteur Luis Enrique, an ace mechanic–a chance to photograph him working on his collection of antique Harleys. We'll also enjoy cigars and cocktails at Hotel Nacional. This evening is free to dine at leisure, and/or you may choose an optional visit to the Tropicana cabaret.
Overnight: Casas particulares, Havana (Meals included: B)
Day 4: Tuesday / Viñales
A highlight this morning as we venture beyond Havana, stopping first to photograph at Fusterlandia, a spectacular community art project inspired by Gaudi, Picasso and Brâncuși. We'll continue to the mountain community of Las Terrazas to photograph this exquisite village and savor lunch at Fondita de Mercedes. Continue to Viñales, arriving in time to settle into our private B&Bs before a sunset photoshoot.
Overnight: Casas particulares, Viñales (Meals included: B, L)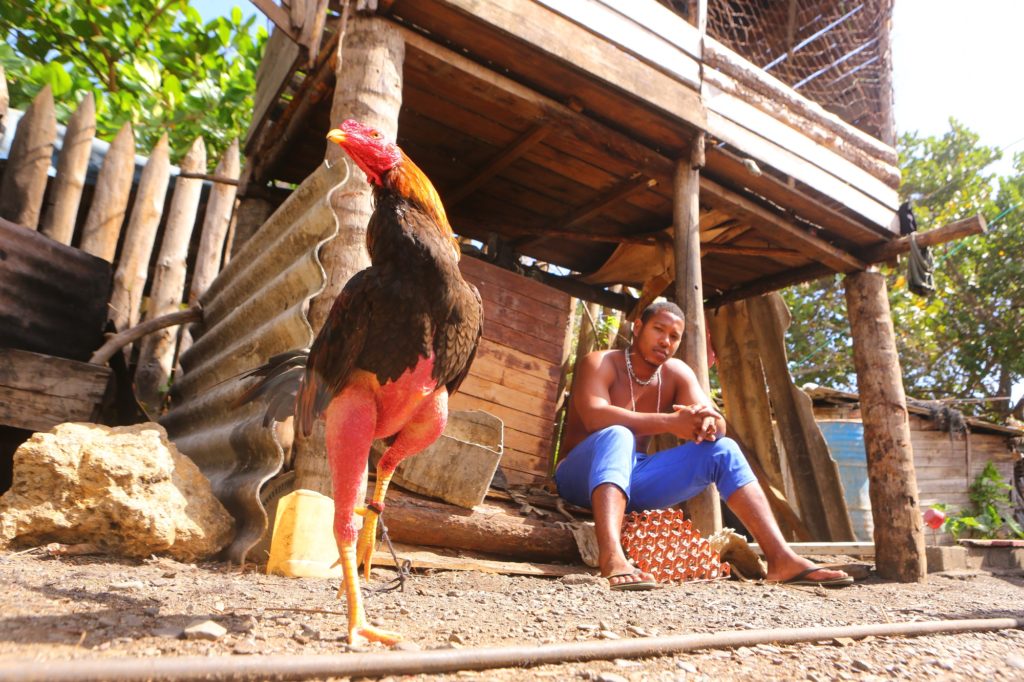 Day 5: Wednesday / Viñales
Up early for a sunrise shoot in the tobacco fields. We'll spend time photographing the farmers and magnificent landscapes of this unique region, renowned for its mogotes (sheer-faced, freestanding limestone formations) and tobacco fields studded by Royal palms.
Overnight: Casas particulares, Viñales (Meals included: B, L)
Day 6: Thursday / Viñales – Cienfuegos – Trinidad
We depart early this morning for Cienfuegos, arriving in this lovely Caribbean bay city in time for lunch at Chris' favorite paladar (private restaurant), Finca del Mar. Our options this afternoon include a private shoot with a local kid's baseball team (we may also be lucky enough to photograph an adult game at the stadium)in Cienfuegos; and/or photographing the funky/ fishing boats at Laguna del Cura. We then journey via a former sugarcane processing community where'll photograph locals in the ration store, surround by incredible revolutionary murals. We'll arrive Trinidad in late afternoon. Tonight enjoy dinner alfresco at Vista Gourmet, the city's only true gourmet restaurant, boasting views over the colonial core.
Overnight: Casas particulares, Trinidad (Meals included: B, D)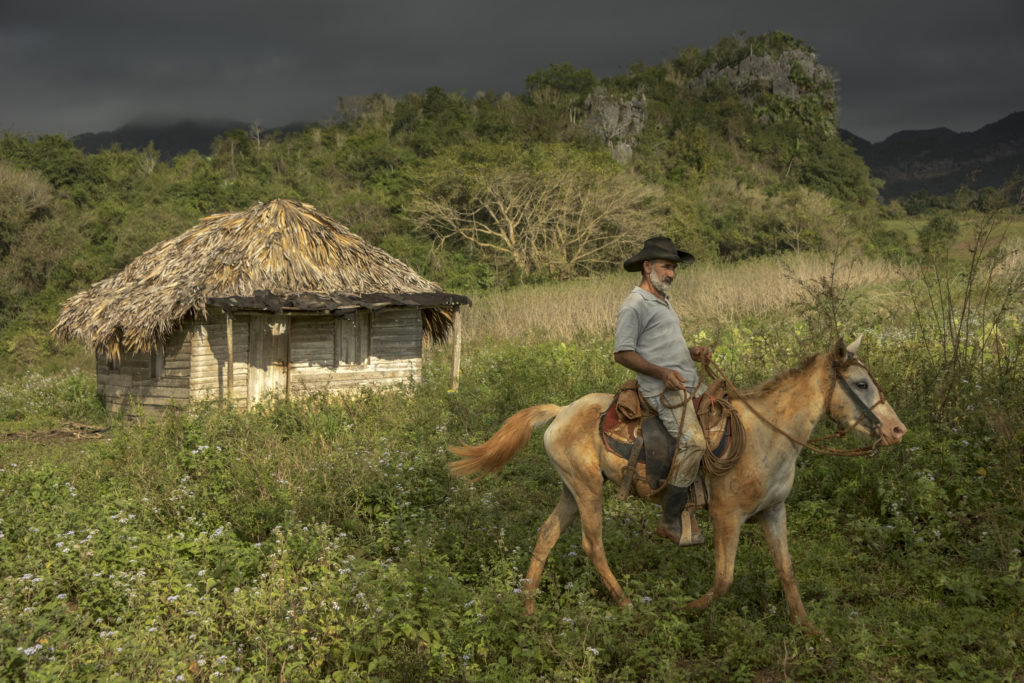 Day 7: Friday / Trinidad
We'll explore Trinidad with Chris' close friend, local photographer Julio Muñoz, reveling in the colonial setting, yesterday lifestyle, and gorgeous early morning sunlight. We'll also photograph an astonishing bas-relief artist at work in his studio. The afternoon is at leisure to pursue your own photographic interests (and/or siesta) before we journey to the nearby Río Guarabo for a special sunset photoshoot. Tonight we'll dine with Julio at his restaurant: Muñoz Tapas.
Overnight: Casas particulares, Trinidad (Meals included: B, D)
Day 8: Saturday / Trinidad
This morning we'll journey into the Valle de los Ingenios (Valley of the Sugar Mills), a UNESCO World Heritage Site where we'll shoot a quinceañera–a girl celebrating her fifteenth birthday–at Chris' favorite 18th-century hacienda. We'll also photograph the farm, and lunch here before returning to Trinidad. In late afternoon we'll venture to the nearby beach community of La Boca to photograph locals enjoying their weekend at leisure.
Overnight: Casas particulares, Trinidad (Meals included: B, L)
Day 9: Sunday / Havana
This morning depart Trinidad and return to Havana, arriving in time for lunch in the fishing village of Cojímar. We'll photograph the Cojímar fishers' collective before checking into our casa particular. This evening we'll enjoy a slideshow of everyone's favorite images before our farewell dinner at one of Havana's top paladares.
Overnight: Private B&B, Havana (Meals included: B, D)
Day 10: Monday / Depart
Today depart Havana for home. (Meals included: B)