Artisanal food & wine cultures of Tuscany & Sicily
Dates & Pricing
Tuscany June 3 – 8, 2019 – $3250
Sicily June 9 – 15, 2019 – $4450
The prices are pegged to the Euro and the current instability may result in amendments.
$200 discount if both tours booked together
Tour limited to 8 participants for intimate, exclusive access
What's included
All lodging
All meals in Tuscany , most meals in Sicily including renowned restaurants with Michelin starred chefs & local farm to table ingredients
All ground transportation
All photo workshop activities
Photography instruction and optional reviews of photos in Tuscany (we'll have more time to discuss and review photos than previous faster paced tours)
Private van and driver
Local guided visits
Cooking classes
What's not included
Airfare
Incidentals not listed
Tips & gratuities
Tuscany Overview
At every destination we will take the opportunity to explore the surrounding countryside and take advantage of the light.  Landscape photography is dependent on weather and serendipity, and our small group size allows this type of  flexibility.
Day 1
Arrive by train via Rome to our home base in Montepulciano – Poggio Etrusco, a five-hectare working olive farm with over 800 olive trees. Poggio Etrusco means "Etruscan hilltop," because at one time this area was inhabited by the Etruscans (500-600 BC).  The farmhouse, constructed in the late 1600s, was originally part of the estate of the noble family Cantucci, still found in Montepulciano and S.Albino.  Since 2001, Pamela Sheldon Johns (a cookbook author) & her husband Johnny Johns (an artist) have been the proud owners of Poggio Etrusco. In that time they have certified organic, put in a vineyard of sangiovese, and increased the olive oil production eightfold.
After lunch, we'll head to Montepulciano with a stop at an amazing carbon free biodynamic winery.  Montepulcialno is home to the Sangiovese clone called Prunolo Gentile that isused to make the renowned Vino Nobile di Montepulciano.
Throughout the week, for those interested, there will be time for learning cooking techniques, recipes and hands-on experiences in the kitchen.
First stop is Cantina de'Ricci's underground wine caves dating back to ancient times. You will have some time on your own to explore the winding streets of this lovely Renaissance town. Don't miss the palazzo with ancient Etruscan tombs built into the walls. We will reconvene for dinner at the best restaurant in Montepulciano, the elegant La Grotta.
Day 2
We'll start the day in Pamela's organic kitchen garden to pick seasonal produce for our hands on class making the traditional pasta of the area, pici, and several other dishes for our lunch.   We'll spend some time practicing food photography and capturing the charm of Poggio Etrusco.  After a leisurely lunch and short break to take a walk, try out the pool, or relax in the garden we will leave for the medieval village of Monticchiello to photograph dusk scenics of the Val D'Orcia, a UNESCO world heritage site.
Dinner will include a lesson on the spectrum of Sangiovese wines in Tuscany, all 100% Sangiovese wines…. We'll start with Morellino di Scansano, then move on to Vino Nobile di Montepulciano, Chianti Classico, Brunello, and finish with a dessert wine made with Sangiovese. Along the way, we will also discuss wine pairing with food.
Day 3
This morning we visit the charming Renaissance hilltown of Pienza with free time to explore this pearl of the Renaissance.   Then head for a visit to the organic farm of an artisanal cheesemaker to photograph how Pecorino Toscano cheese is made. Farmhouse lunch with amazing views.

Afternoon country walk to a natural hot spring with spectacular geological formations, followed by dinner in front of another Roman bath.
Day 4
Early morning we head to the nearby colorful local farmers' market to buy the fresh ingredients we need to make the classic Tuscan dish, Panzanella along with several other typical dishes to complete our lunch menu.  There are always wonderful opportunities to photograph local characters going about their daily life.
After lunch, we will have a private visit the gardens of La Foce.  These formal gardens present endless opportunities for strong graphic images and we will work with light and shadow to create dramatic documents of the landscape including the famous cypress-lined road planted many years ago by Iris Origo.  Dinner at the osteria of the La Foce estate.
Day 5
Today we will visit some of the vineyards and small wineries of the region and also the hilltop villages for which Tuscany is famous.
This morning you have three options:
Cooking class at Poggio Etrusco and lunch (no supplemental charge).Today we explore the Italian artisanal pantry, including an in-depth olive oil tasting with Pamela, an olive oil sommelier.
Spa day at the local terme (supplemental charge)
Early morning excursion (supplemental charge) in a hot air balloon ride over the Avignonesi vineyards, insiders tour, and lunch – a personal suggestion from Andrea &Bob's Italian wine connections. https://www.avignonesi.it/en/wine-in-the-sky-the-hot-air-balloon-tour
In the afternoon we will visit the vineyards and small wineries of Montalcino using our personal wine connections at Col d'Orcia and the organic Salicutti wineries, along with the classic Biondi-Santi, creators of Brunello, and a Brunello vineyard that grows to the sound of Mozart. Lunch will be in one of the tasting rooms. Along the way, we'll make a stop for some shots of the Chapel Vitaleta, a very iconic roadside scene of a tiny chapel in the fields.
Our farewell dinner will be in a restored monastery with a creative spin on local ingredients.
Sicily Overview
Fly from Rome to Palermo, Sicily's colorful capital.  Travel with local experts for an insiders tour of top food & wine destinations and ancient cultural landscapes.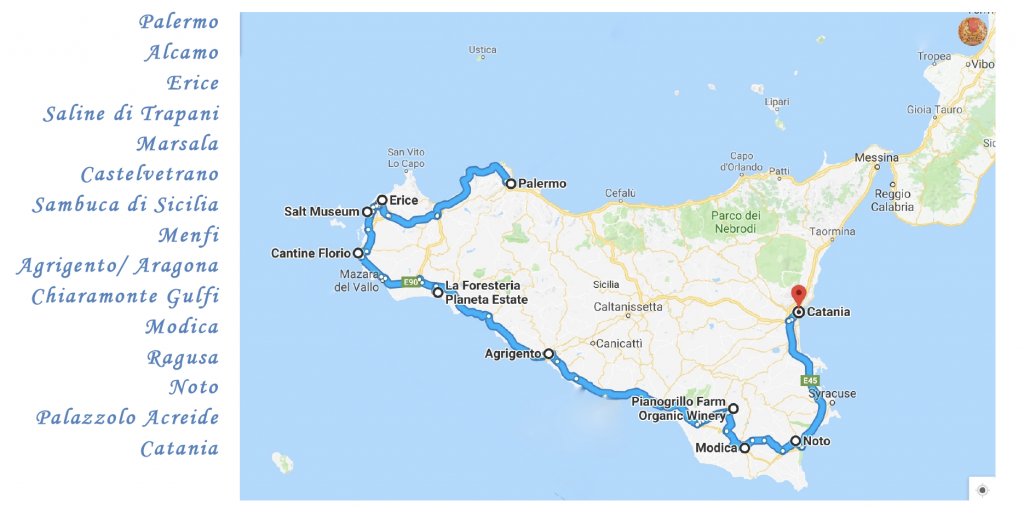 Sicily Highlights
Palermo –  markets, coffee shops, street food
Streets of Old Palermo – meet local Palermo expert to stroll past the homes of once powerful Sicilian noble families and through the narrow side streets and alleys sampling street food for which Palermo is famous.
Caffe Letterario – join the locals in the early morning at Palermos's best local coffee shop and market, one of the Citiy's great historic cafes frequented by writers and artists over the years.
Mercato Ballearo, an amazing open air market.
Palemero countryside  
Bosco Falconeria, 45-minute drive to brings us to the countryside near Alcamo where we will experience the beautiful landscape of this Mediterranean island, visit an organic farm/winery with 40 acres of grapes and other organic crops such as olive oil, fruits, nuts, and vegetables.  Visit the Simeti family (home of Pamela's longtime friend & author Mary Taylor Simeti who is married to Tonino whose family has farmed this land since 1933).  Mary herself is a renowned expert on Sicily, her writings reflect the knowledge of decades of living on this island. Her diligent research weaves history and personal experience into a colorful tapestry. To really delve into this island's story, start with her book, Pomp and Sustenance: Twenty Five Centuries of Sicilian Food.
Erice – atmospheric ancient holy city
Drive 2400 feet above sea level to the hilltop town of Erice, Sicily's most atmospheric village.  It is an ancient holy place, home of one of the most significant cults and divinities of the classical age.  Wander around the village in the labyrinth of ancient narrow cobblestone alleys.
Marsala countryside – salt flats, wineries & vineyards, olive oil  and ancient grains
Capture the ancient agricultural landscape
Via del Sale, the ancient Salt Road (sometimes just a footpath) for salt merchants since the time of the Phoenicians (ca 800 BC) & surreal waterfront town of Marsala
Wineries & estate vineyard tours:   Florio, a traditional producer since 1833, where the interesting story of Marsala wine began in 1773 with fortified DOC wine.  In the near countryside visit the lakeside winery and estate vineyard Ulmo, Planet's winery in Sambuca di Sicilia.
Ancient grains & olive oil:  One of Sicily's best-known olive growing areas and home to an artisan miller expert in ancient grains.
Charamonte Gulf tour with Baron Lorenzo Piccione, famous producer of top quality olive oil along with other products of his organic 200 acres estate. The Baron will show us around and tell us about his family history that goes back to 1700s on this land at the edge of the archaeological area of "Akrillai", an ancient Greek colony.
Modica & Noto – Michelin starred chef, chocolate, baroque architecture
Get behind the scenes in the home of Michelin-starred chef Accursio Craparo, called the cook of the two Sicilies because of his experience in both eastern (Modica) and western (Sciacca) Sicily…two different worlds as you will begin to see.
Chocolate artisan Bonajuto whose shop has been in Modica since 1880. Bonajuto still prepares their chocolate in the same way the Aztecs, using modern instruments, but maintaining a low temperature that doesn't melt the sugar crystals. The chocolate you will taste is unlike any of the industrialized chocolate you find at home.
Explore the architecture of the finest baroque town in Italy. Juxtapositions of neat grid streets with unexpected glimpses of countryside and hillsides visible next to piazzas and staircases play tricks of perspective and offer unlimited photographic opportunities.
Ortygia – a magical island
The island of Ortygia is linked to the mainland by two causeways and this was the heart of Syracuse for 2,700 years.
Hang out with the locals at renowned Gran Caffé del Duermo in Ortigia's main square
Capture hidden coastal nooks from a boat tour
Visit the local market with cooking teacher Alessia to buy the ingredients for our lunch of local dishes
Attend a concert or play at Anfiteatro Romano, the Roman amphitheater built in the third century B.C.
Throughout our tour we will have endless opportunities to shoot landscapes, markets, people and quaint villages while indulging in some of Italy's finest food and wine.  Even for non photographers, this will be a remarkable and memorable  experience.